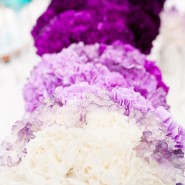 Hot Wedding Trend~ The Ombre Effect Part Deux
If you remember from our last post about this hot wedding trend, we featured wedding dresses and wedding cakes emulating those dresses. What fun!
That representative some of the most dramatic translations of the trend. Could you see any of those dresses on a Charleston Bride at Lowndes Grove or the Legare Waring House? Maybe. Most likely not. So here are a few simple and fun ways to implement the ombre effect into your wedding style.
Here's a few of my favorites in ~Ombre Hair ~Ombre Flowers & Decor and ~Ombre Fashion
OK, so that last pic isn't for weddings. But, I thought they were a pretty cool pair of jeans my youngest son Gabe picked out
As always, thanks for joining me,
~Beth